TEAM ::: TEXAS RANGERS
LOCATION ::: ARLINGTON, TEXAS
MY FIRST VISIT ::: AUGUST 23, 2008
OPPONENT ::: CLEVELAND INDIANS
MY MLB STADIUM RANK ::: 24 out of 40
FORMERLY KNOWN AS ::: THE BALLPARK IN ARLINGTON
AMERIQUEST FIELD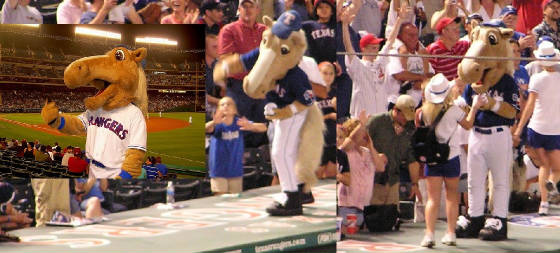 RATINGS
BALLFIELD ::: A
SCOREBOARD ::: A-
FOOD ::: A
FACILITIES ::: B
MASCOT ::: A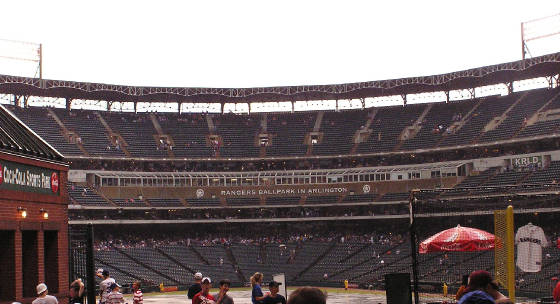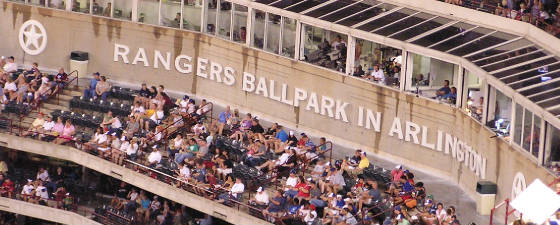 MY TAKE ON THE PARK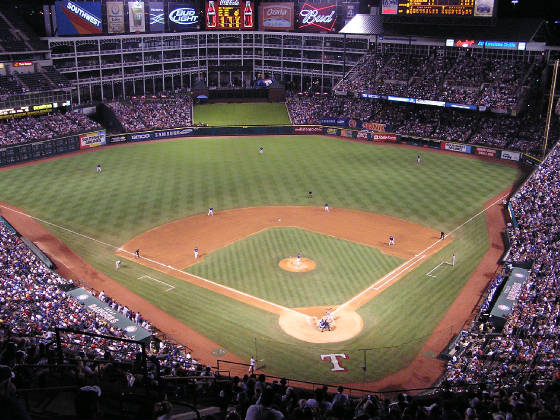 Rangers Ballpark in Arlington, what a great name for a ballpark. The first name, The Ballpark in Arlington was a classic as well. I remember visiting the old Arlington Stadium and seeing this place being built in the distance, knowing how easy it would be to be better than Arlington Stadium but wondering if they wouldn't put as much into it because it was. They made one giant ballpark here.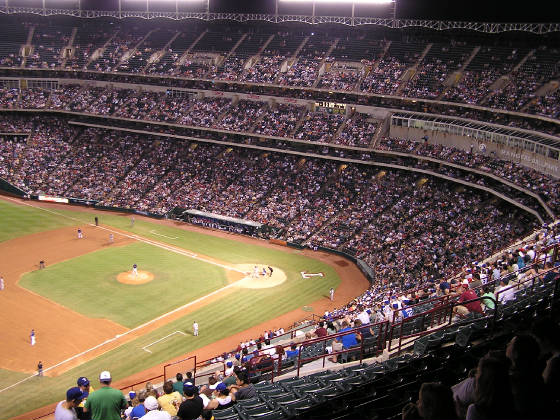 Built in the center of the Dallas- Fort Worth area next to Six Flags, there is only one way to get here, drive.
I don't want to dwell on the heat in Texas because it is an understood factor in coming here, but as you see in the picture above, there is a lot of field in that picture. Why didn't they use that empty space for parking? $20 in the hotel lot allows you to walk ¼ mile in the Texas heat up a slight incline. As in Atlanta, if you drive a Lexus you will receive Complimentary Valet parking at the door to the Stadium. Something to think about if renting a car in July and August in Dallas.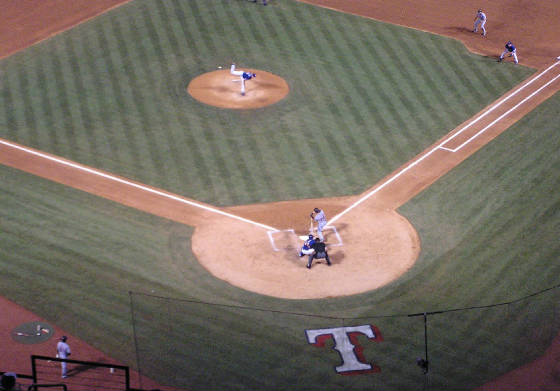 Once inside it is apparent that since they were away from the cities they would have more room. Well, they had 2 things when building this park, room and ideas. They used both of them. Wide concourses with plenty of concessions offering most everything a baseball fan could want at the game. Along the 1st base side there is a huge area apart from the main concourse, a Smoker's area. Escalators are near the entrances and take you to the upper levels, Lexus has the Suite level here as well. From the upper level there are more concessions with plenty of space to look out over the Amusement Park, the open spaces of Texas, or even view the progress of the Cowboys new Stadium. A lot can be said about how huge that really is, I will just leave that to a mention here and a photo at the bottom of the page.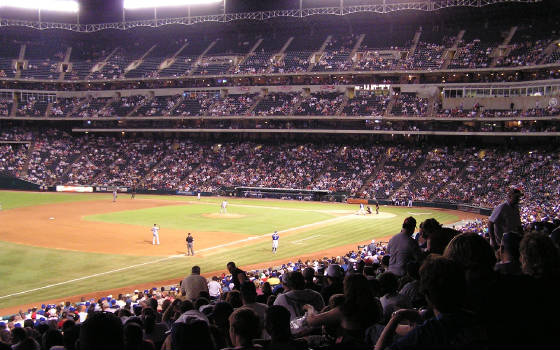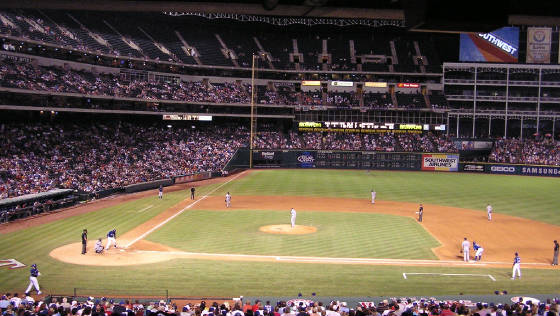 Now to the field, the ballpark has it all. One question to the folks in Detroit, did you see a design like this when building Comerica? How great this place would be in Detroit. In Arlington, there is really nothing outside the park, so build scenery inside. The outfield has a lot going on but it does look good.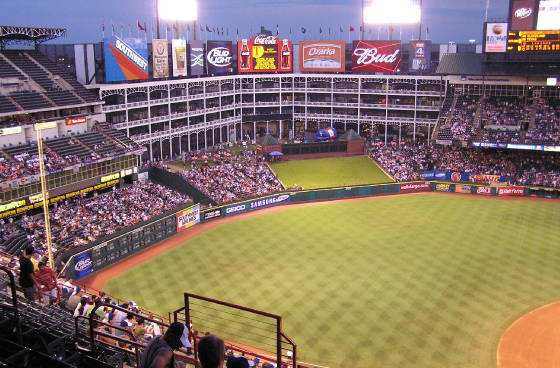 Comfortable seats, even if it is 100 degrees pre game, a perfect looking field, and an enjoyable atmosphere all await in Arlington. Another park where you can walk the whole main level to get various views of the park. What a great job that was done in the outfield, like US Cellular they cater to the kids with a mini ball field where kids can smack balls over the fence and have it shown on the video board. A few stores are also out there, visited a number of times because they are Air Conditioned, they sell Authentic Rangers Merchandise at prices which seemed a bit low.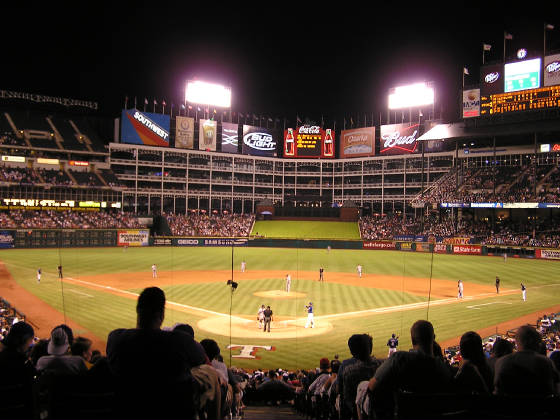 I would most certainly recommend a visit to the Rangers Ballpark in Arlington. I'm sure in April - June it is even better because in July and August it is really just too hot. The concessions are good, the scoreboard is up on the sky and during the 7th inning stretch you get to dance around to the "Cotton Eyed Joe." Oh, and if there is any doubt about the song sung in the 8th inning , take a look at sky on the walk back to the car after a night game. "The Stars are Bright, late at night ……."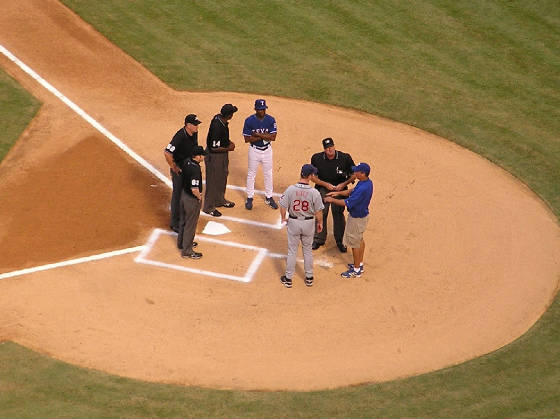 THE LINE UPS
Cleveland Indians Manager :::
22 Eric Wedge
Texas Rangers Manager :::
38 Ron Washington
CLEVELAND INDIANS
24 Grady Sizemore cf
20 David Delucci dh
12 Ben Francisco lf
2 Jhonny Peralta ss
17 Shin - Soo Choo rf
25 Ryan Garko 1b
10 Kelly Shoppach c
15 Andy Marte 3b
13 Asdrubal Cabrera 2b
45 Jeremy Sowers p
53 Rafael Perez WP
50 Jensen Lewis S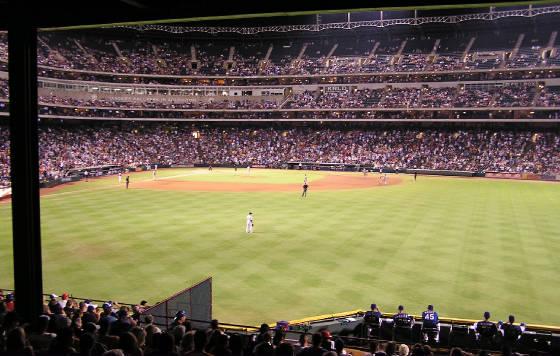 TEXAS RANGERS
41 Brandon Boggs lf
10 Michael Young ss
32 Josh Hamilton cf
21 Milton Bradley dh
9 Hank Blalock 1b
22 Marlon Byrd rf
15 Gerald Laird c
19 Chris Davis 3b
4 Joaquin Arias 2b
20 Brandon McCarthy p
45 Jamey Wright LP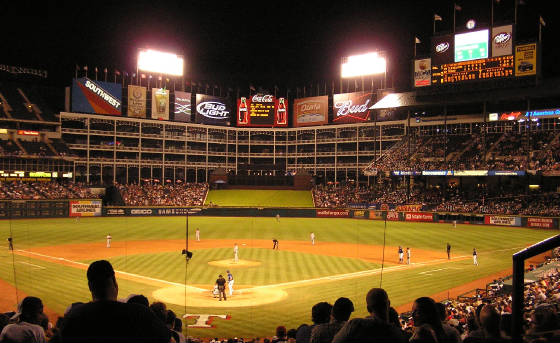 INDIANS 100 060 010 8 8 0
RANGERS 001 600 000 7 10 0
TIME ::: 3:29
ATTENDANCE ::: 29,900
WEATHER ::: 78 Humid .. Game delayed 1:14 by rain
SEND ME AN E-MAIL

LINKS
The Official site of The Texas Rangers
Where they used to play, my Arlington Stadium site
The Burger House site - Home of delicious burgers in Dallas
The Paris Coffee Shop in Fort Worth
The Southfork Ranch - Home of the TV Show "Dallas"
The Sixth Floor Museum - Dealey Plaza
The Official site of the Dallas Cowboys
Arlington weather from WEATHER.com
Page last updated:::

© 2000-2012 UNCLE BOB'S BALLPARKS
I AM IN NO WAY AFFILIATED WITH ANY OF THE TEAMS ON THIS PAGE ... THIS PAGE IS MEANT FOR INFORMATION PURPOSES ONLY.