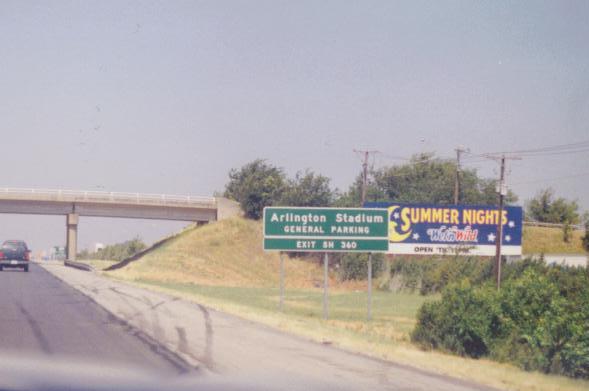 TEAM ::: TEXAS RANGERS
LOCATION ::: ARLINGTON, TEXAS
MY FIRST GAME ::: JULY 23,1993
OPPONENT ::: TORONTO BLUE JAYS
MLB STADIUM RANK ::: 31 OF 40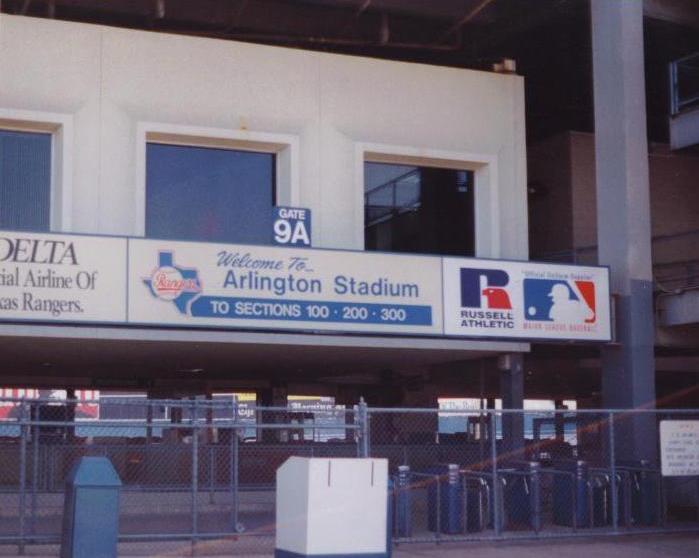 RATINGS
BALLFIELD ::: B
SCOREBOARD ::: B
FOOD ::: B
FACILITIES ::: B

MY TAKE ON THE PARK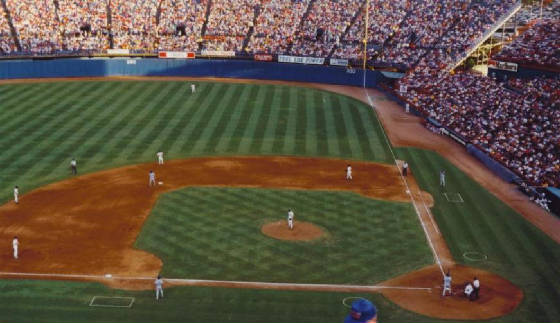 THERE IS ONLY ONE REACTION TO THIS PLACE THAT LOOKS LIKE WHEN THEY
NEEDED MORE SPACE, THEY JUST ADDED A SECTION ... IT'S HOT!!
A 7:30 GAME AND THE TEMPERATURE WAS 97 DEGREES. PEOPLE IN DALLAS HAVE
TOLD ME THAT IT IS THE HEAT THAT IS KEEPING THE TEXAS RANGERS FROM
COMPETING INTO OCTOBER. COSIDERING YOU BREAK A SWEAT JUST WATCHING THE
GAME, I CAN UNDERSTAND THEIR THINKING.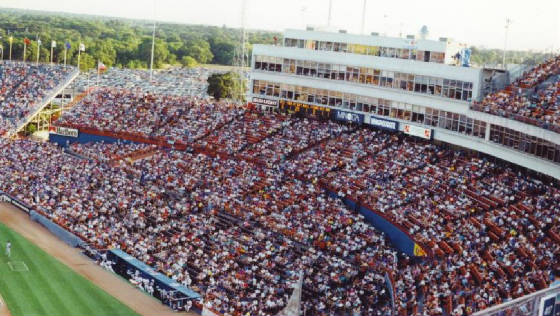 THE STADIUM WAS NOTHING TO RAVE ABOUT, A MINOR LEAGUE PARK THAT ADDED A SECTION TO ACCOMODATE THE MAJOR LEAGUES, NEXT DOOR THEY WERE BUILDING THE NEW PLACE, DARK RED BRICK AND DESIGNED TO GIVE THE FANS THE LEAST AMOUNT OF SUN EXPOSURE. FROM THE OUTSIDE IT DID LOOK LIKE IT WAS GOING TO BE A GREAT LOOKING PLACE, BUT IF ANY PLACE NEEDED A DOME, THIS WAS IT.
WHEN IN DALLAS, EVERYTHING INDOORS IS COLD, AIR CONDITIONING IS ALWAYS AT FULL BLAST, I WOULD THINK THE PEOPLE OF DALLAS WOULD HAVE DEMANDED A DOME.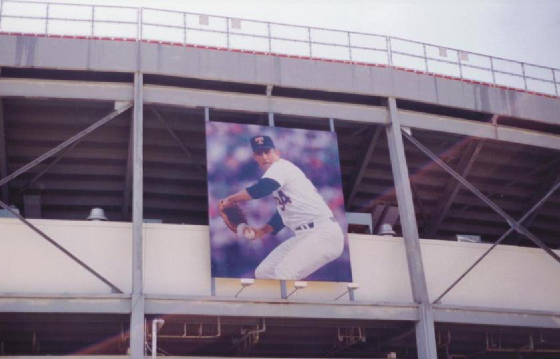 YOU CAN TELL WHO THE FAVORITE SON IS HERE IN ARLINGTON, THE OUTSIDE OF THE STADIUM IS DRAPED WITH PICTURES OF NOLAN RYAN.
A SPECIAL "TEXAS" TWIST TO THE PLACE IS THE 7TH INNING STRETCH. AT COUNTY STADIUM THEY SING "ROLL OUT THE BARRELL," IN TORONTO THEY SING THE BLUE JAYS SONG, AND HERE IN TEXAS, GET UP AND STRETCH TO "THE COTTEN EYED JOE." AS SOON AS THE FINAL OUT IS MADE IN THE TOP OF THE 7TH, THE VIOLIN POUNDS OVER THE PA AND THERE IS NO OTHER CHOICE BUT TO GET UP AND STOMP YOUR FEET.
OF THE MAJOR LEAGUE PARKS I HAVE VISITED I RATE ARLINGTON 28TH, BEHIND MINUTE MAID PARK BUT AHEAD OF CLEVELAND. IN ARLINGTON YOU HAVE REAL NICE PEOPLE, A SURPRISE TO ME CONSIDERING THE HEAT, AND A SUCCESSFUL ATTEMPT TO JOIN TEXAS AND BASEBALL. AS WITH THE REST OF THE CITY, THE DRINKS ARE ICE COLD AND THE FOOD IS SPICY HOT.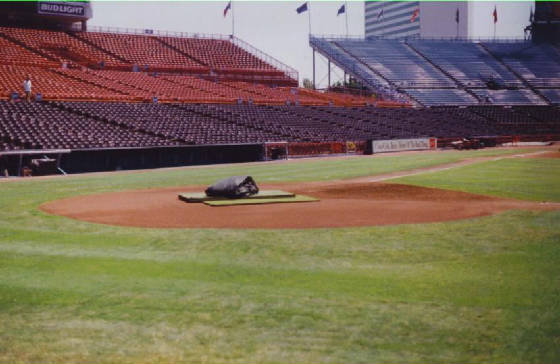 ON THE DAY AFTER MY FIRST VISIT I WAS TOLD THAT I COULD TAKE A WALK THROUGH THE STADIUM IN THE AFTERNOON. I DIDN'T BELIEVE THIS BUT TOOK A RIDE OUT TO THE EMPTY STADIUM. TO MY SURPRISE, THE GATES WERE OPEN AND I HAD MY RUN OF THE PLACE.
I WENT INTO A SKYBOX AND SAW THAT THEY WERE AIR CONDITIONED AND QUITE COMFORTABLE. I THEN WALKED OUT INTO THE SEATING AREA AND WATCHED AS THE SPRINKLERS WORKED IN THE 100 DEGREE SUN KEEPING THE GRASS AS GREEN AS POSSIBLE. I SAT QUIETLY IN A FIELD BOX, LOOKING AROUND AT THE PLACE AND IGNORING THE HEAT. I THEN HEARD SOMEONE WALKING AROUND AND THOUGHT I WAS GOING TO BE ASKED TO LEAVE, IT WAS AN EMPLOYEE OF THE STADIUM AND HE SEEMED HAPPY TO SEE ME THERE ENJOYING HIS PARK. A FRIENDLY GOOD MORNING WAS THROWN MY WAY IN HIS SOUTHERN ACCENT AND THAT WAS IT, I GUESS IT WAS OK FOR ME TO STICK AROUND. I DID A LITTLE LONGER AND THEN LEFT WITH A VERY SPECIAL PLACE FOR ARLINGTON IN MY HEART.
LINE UPS

BLUE JAYS MANAGER :::
43 Cito Gaston
RANGERS MANAGER :::
44 Kevin Kennedy
TORONTO BLUE JAYS
25 Devon White cf
12 Roberto Alomar 2b
19 Paul Molitor dh
29 Joe Carter rf
9 John Olerud 1b
1 Tony Fernandez ss
33 Ed Sprague 3b
24 Turner Ward lf
17 Randy Knorr c
41 Pat Hentgen p / LP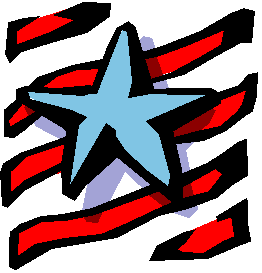 TEXAS RANGERS

5 Gary Redus cf
14 Julio Franco dh
27 Rafael Palmeiro 1b
19 Juan Gonzalez lf
16 Dean Palmer 3b
12 Geno Petralli c
17 Dan Peltier rf
20 Doug Strange 2b
6 Mario Diaz ss
59 Roger Pavlik p
11 Craig Lefferts WP
50 Tom Henke S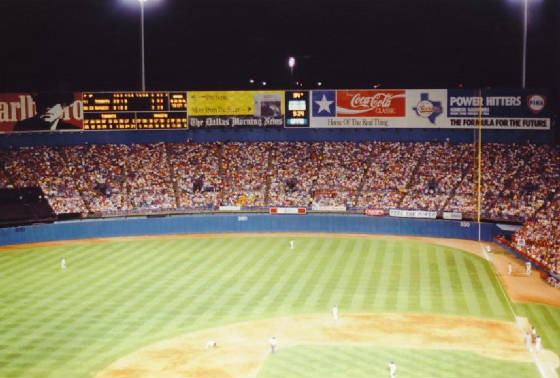 BLUE JAYS 201 011 000 5 14 2
RANGERS 010 200 30x 6 8 3
TIME ::: 3:28
ATTENDANCE ::: 38,124
WEATHER ::: 97, HOT
SEND ME AN E-MAIL

LINKS
Where the Rangers play now, My Rangers Ballpark in Arlington site
The official site of the Texas Rangers
Arlington weather from WEATHER.com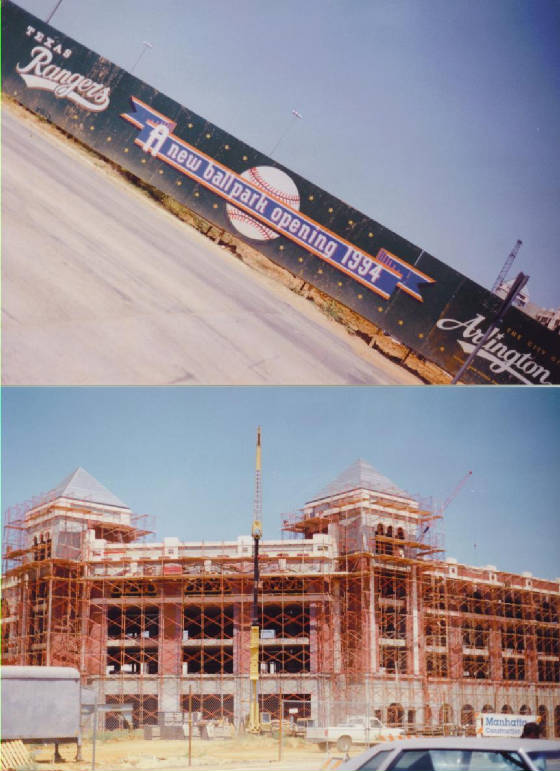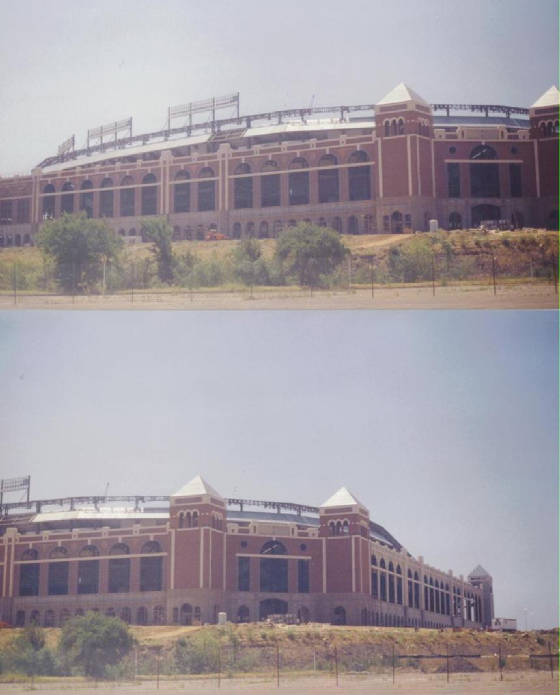 Page last updated:::

© 2000-2012 UNCLE BOB'S BALLPARKS
I AM IN NO WAY AFFILIATED WITH ANY OF THE TEAMS ON THIS PAGE ... THIS PAGE IS MEANT FOR INFORMATION PURPOSES ONLY.